LARRY GUIDI TAKES CREDIT FOR 350 JOBS AND NEW TAX REVENUE - MOST OF IT TWICE!

The new Costco store is the old Costco store in a new building. 350 new jobs? Hardly Most of the employees of the old Costco store are working at the new Costco store. New significant sales tax revenue? He's counting the old store's revenue twice! (From Larry's 2001 campaign flyer.)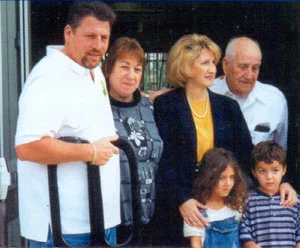 EVERYBODY LOVES LARRY 2001
In his 2001 campaign flyer, Larry Guidi is pictured with some of the Ainsworth family. Did you know that Mark Schoenfeld first became a councilman to fill the late Betty Ainsworth's vacant seat with the Ainsworth family's support? Did you know that Ben Ainsworth (pictured on right) SIGNED MARK SCHOENFELD'S MAYORAL NOMINATION PAPERS? He didn't sign Larry's. Larry thinks nobody will notice.
LARRY'S AVAILABLE ... WHAT'S HIS NUMBER???


Here's another statement from Larry Guidi's 2001 campaign flyer. Larry Guidi's web page www.mayorguidi.com does not list Larry's home phone number or e-mail. In fact, Larry says, "Thank you for visiting my website and remember to send your comments and I will get back to you." Right. The "Feedback" and "Guest Book" pages have been disabled for months. The City Hall secretary won't give you his home number either. Maybe that's O.K. since his page mostly fluff, with no discussion of issues or problems. Mark Schoenfeld has been taking calls from constituents at home for years. Mark's number is (310) 643-8344. You can e-mail mark by clicking here.
Click here for Guidi Watch 4